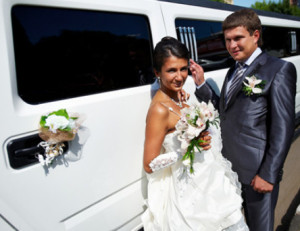 Wedding Limo Denver Colorado
It's that time of the season for wedding limos in Denver.  If you are planning your wedding event, don't forget to include a limo for the wedding party activities.  Not only do you need a limo to get you t the church on time, you need a limo to get the bachelor or bachelorettes to the dinner parties you are planning before the big wedding day.
There are so many things to plan for that special wedding day.   One website we found helpful was the Wedding.TheKnot.com they even have a section on Wedding Transportation.  10 Great Wedding Transportation Tips.  We found it very helpful and we know you will too.  But to sum up a few key points, we provide our favorite three.
Don't Limit Yourself in the Limo Size.  They suggest do a vehicle tryout and don't limit yourself to just White Limos, try the Black too.   At All Pro Limousine, we offer a white and black limo it is called a Lincoln Town Car with a Black Tuxedo Top.  It is a great limo for any size wedding.
Don't be afraid to get "The Red Carpet Limo Treatment." It doesn't cost much more to get the very special treatment you deserve on this day.  We offer wedding packages to fit any size pocket book.  Its a very special day, let's include those little touches you want to include on your wedding day. We can stock the vehicle with chilled champagne and caviar.  We can provide those special touches on the outside of the vehicle.  Including flowers, and signage that says " Just Married. "
Keep an open mind when ordering a Wedding Limo.  There is not iron clad rules about colors of limos or styles.  We have all sizes and styles. We have the Hummer, Lincoln Town Cars Stretched, Party Buses, Tandem Rear Limos, Small or Large Vehicles.  It really depends on the size of your party.  Don't hesitate to ask questions. But keep an open mind when selecting a limousine for your wedding day.
Be sure to visit our Main Website for more Wedding Limos in Denver and the surrounding cities.
Call for a reservations:
720-366-4561