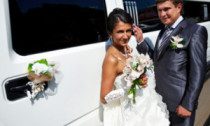 Wedding Limo Denver Colorado
It's that time of the season for wedding limos in Denver.  If you are planning your wedding event, don't forget to include a limo for the wedding party activities.  Not only do you need a limo to get you t the church on time, you need a limo to get the bachelor or bachelorettes to the dinner parties you are planning before the big wedding day.
There are so many things to plan for that special wedding day.   One website we found helpful was the Wedding.TheKnot.com they even have a section on Wedding Transportation.  10 Great Wedding Transportation Tips.  We found it very helpful and we know you will too.  But to sum up a few key points, we provide our favorite three.
Don't Limit Yourself in the Limo Size...
Read More